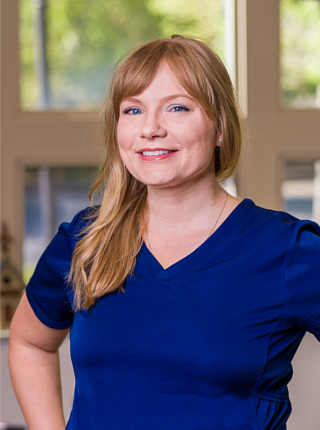 Dr. Shauna Woody was born and raised in West Virginia. She pursued her undergraduate career at University of Massachusetts Boston where she majored in Biology. Then she worked for the Howard Hughes Medical Institute at Tufts University in the Molecular Microbiology Department as a laboratory manager researching streptococcus pneumonia, while earning a Master's degree at Boston University in Medical Sciences with a concentration in Oral Health. The focus of her master's research was early childhood caries and this sparked the beginning of her interest in pediatric dentistry. She earned her Doctor of Dental Surgery at the University of California San Francisco School of Dentistry.
During her dental school externship, she realized her passion for pediatric dentistry, she quickly saw the impact of oral health education in young children and their caregivers. After graduation, Dr. Shauna returned to the east coast, to Philadelphia, where her husband was completing his residency. She earned her Certificate in Pediatric Dental Medicine through a rigorous residency at St. Christopher's Hospital for Children, where she was trained to safely and confidently treat children will all levels of healthcare needs.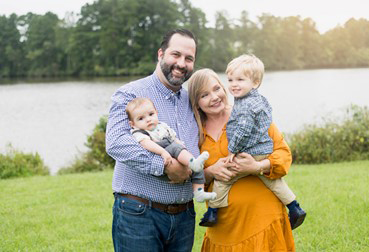 Dr. Shauna and her family returned to California after residency where she practiced in San Diego and became a diplomat of the American Board of Pediatric Dentistry. After several years on the west coast, we are so lucky that Dr. Shauna and her family settled in North Carolina for her husband to pursue an academic position at Duke University. Dr. Shauna comes to us with 5+ years of clinical experience and has worked in various practices in the Triangle before finding a home with us at Franklin Street Pediatric Dentistry.
Dr. Shauna, her husband Hector, and children Xander and Sebastian enjoy trying new restaurants, being outdoors, spending time with their dog (and fostering dogs when possible). You can also find Dr. Shauna running, practicing yoga, and traveling.
Research
During Dr. Shauna's time working at the HHMI laboratory, her research was on the most common pathogen responsible community acquired pneumonia. Additionally, her Master's degree focused on the Behavioral and Bacterial Factors Associated with Early Childhood Caries. She also spent a summer internship at the National Institutes of Health where she studied molecular factors involved in oral cancer.
Awards
2011 UCSF Dental Alumni Association Award
2009 National Institute of Dental and Craniofacial Research Summer Dental Student Award
2010 Neider Scholarship
2008 UCSF School of Dentistry Scholarship
Professional Memberships