We recognize that all of our young patients are unique and deserve to receive dental care that reflects their individual needs. Our experienced and talented dental team is committed to working with you and your child to create a comfortable, stress-free, and rewarding dental experience every time you visit our practice.
We are pleased to welcome you and your family, and we look forward to working with you.
---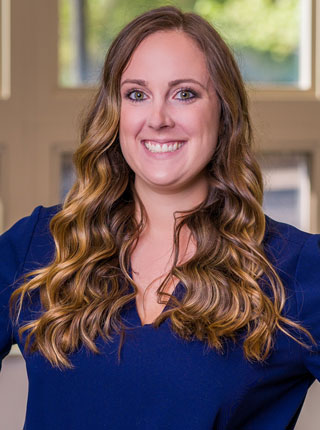 Erin
Treatment Coordinator/Dental Assistant
Erin graduated from Alamance Community College in 2011 with a degree in dental assisting. She has been at our office ever since. You might recognize her from the years she spent working on the clinical side of the office, but now she is one of the first smiling faces you will see when you arrive! Erin has transitioned to the front office, and is your "go-to" for any treatment-related questions!
Erin currently lives in Hillsborough, NC. In her free time, Erin enjoys running outdoors and spending time with her husband Colton, daughter Addison, and golden retriever Finn.
---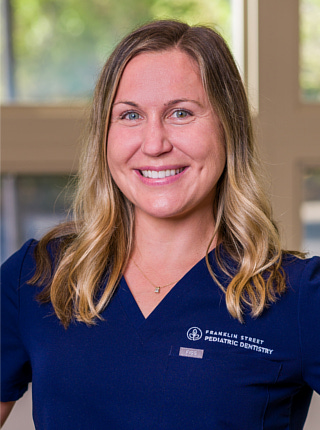 Angie
Office Manager
Angie is a long-time FSPD employee; she has been with us since 2013 and has filled many roles in the office! Angie has transitioned into a management role and would LOVE for you to pop into her office and say "Hi!" on your way in and out while she is toiling away to make sure that we understand fully everyone's insurance benefits and treatment plans. Angie is a dental assistant by trade but our IT person, insurance guru, and resident smiling face as well.
Angie lives in Chapel Hill and loves spending time with her three kids who are GROWING WAY TOO FAST!!!
---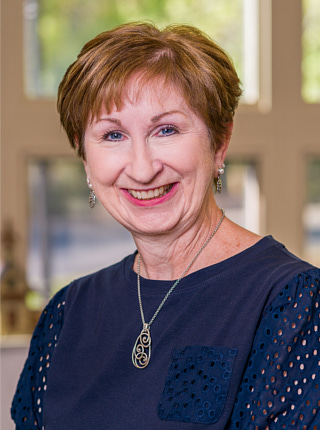 Becky
Financial Coordinator
Ms. Becky joined our staff in April 2017 and has been such a wonderful addition to the team! Becky comes to us with more than 20 years of experience in pediatric dental treatment planning and insurance navigation. Becky is a true problem solver and thoroughly enjoys working with parents to resolve insurance and financial concerns. If she doesn't have an answer for you, she will certainly find one – and she will do it with a smile!
Outside of the office, Becky loves spending time with family – especially her sweet-as-sugar grandson Mason – and making her yard look beautiful.
---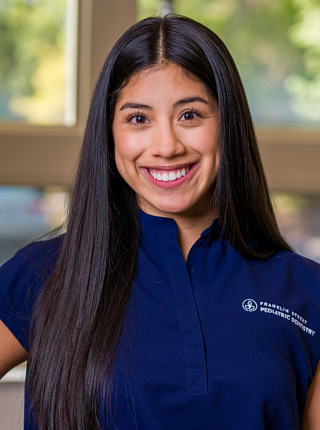 Jasmine
Marketing and Communications/ Dental Assistant
Jasmine joined our staff in 2019 after rotating through our office during her time at Alamance Community College in the dental assisting program. We fell in love with her bubbly demeanor and fun presence during her rotation and she joined our staff LITERALLY the first day that we could hire her after graduation. Jasmine speaks fluent Spanish and has a way of making all of our patients and parents feel comfortable.
Jasmine grew up in Burlington and loves going to the gym, traveling to new countries, and raising her super cute mini Goldendoodle pup, Velma!
---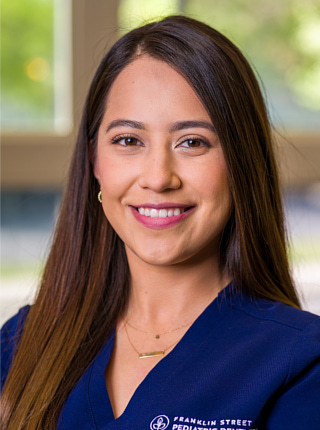 Nereida
Lead Dental Assistant
Nereida completed her dental assisting program at Alamance Community College in 2015 and has worked in pediatrics ever since. Nereida is fluent in both Spanish and English. She is warm and incredibly patient with our children.
Nereida currently lives in the charming town of Graham, NC with her husband, Ezequiel, and their two sweet pups, Lizzy and Macy! When she is not working, she enjoys traveling and shopping at her favorite store, Hobby Lobby. She is our go-to girl for all stylish advice.
---

Nancy
Dental Assistant
Nancy joined our practice after rotating through our office during her time at Alamance Community College. We snagged her up immediately after her graduation in 2021! Nancy is fluent in both English and Spanish. Her calm demeanor helps patients feel at ease during their visit.
In her free time, she likes to spend time with family, painting, and listening to music! A fun fact about Nancy is she used to be a former Ballet Folklorico dancer!
---

Nijah
Dental Assistant
Nijah joined our office in 2021! Being in the field since 2017, she brings a variety of knowledge from different aspects of dentistry! Nijah is a Chapel Hill native who ironically loves the Duke Blue Devils. She has been in the dental field since 2017 and brings experience from different aspects of dentistry.
Nijah loves making new memories with her husband, their daughter Nova and two dogs (Mabel and Hazel). Her outgoing and friendly personality brightens up our day! She loves helping others and is a valuable addition to our team.
---

Faith
Dental Assistant
Faith has been with our team since 2019. She graduated from East Tennessee State University and moved to North Carolina to be closer to family. She enjoys helping positively impact children's lives through good oral health. Her goal is to ensure every child has a great, enjoyable, fun experience at every visit. Faith's patience, fun personality, and experience with children make her a perfect fit for our team!
Faith recently got married and lives with her husband, Tyler, in Durham with their dog Hank. Faith enjoys running, traveling, and trying out new restaurants and breweries with her husband in her free time.